Blu Floyd Pink-Ray aneb rocková klasika v HD
Producentům EMI se podařilo zajistit práva k multiplatformovému znovuvydání dvou nejslavnějších alb legendární skupiny Pink Floyd.
Na podzim se díky tomu můžeme těšit na návrat Wish You Were Here a Dark Side of the Moon v doslova vysněné podobě.
Takzvané Immersion Editions totiž budou prezentovat hudbu od Pink Floyd ve všech existujících mixech na všech dostupných médiích, kde jí budou doprovázet kvanta bonusových materiálů.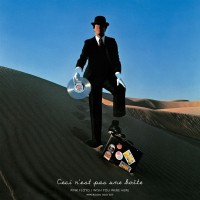 Pravda, více jak sto dolarů za jednu takovou edici je hodně, za odměnu ale dostanete pěti, respektive šestidisková balení CD, DVD a BD, na kterých budou originální stereo-mixy, legendární quad mixy (které se dají sehnat jen na LP / osmistopé kazetě, případně na home-made CD, která znějí naprosto božsky). No a na Blu-ray discích se samozřejmě můžeme těšit na HD audio v bezeztrátových kompresích – třeba šestikanálový mix DSotM Jamese Guthriea z roku 2003, který dřívě vyšel pouze na SACD.
Nálož bonusových materiálů a hlavně všelijakých zvukových formátů je v Immersion edicích ohromný, viz. níže přiložený výpis veškerého obsahu (v angličtině).
Wish You Were Here vychází ve Spojených státech 8.listopadu za $149.99, Dark Side of the Moon už 27.září za tu samou cenu.
Pink Floyd: Wish You Were Here
Wish You Were Here digitally remastered by James Guthrie, 2011
Shine On You Crazy Diamond (parts 1–6) live at Wembley November 1974 (2011 mix and previously unreleased)
Raving & Drooling live at Wembley November 1974 (2011 mix and previously unreleased)
You've Got To Be Crazy live at Wembley November 1974 (2011 mix and previously unreleased)
Wine Glasses from the unreleased 'Household Objects' project Have A Cigar alternative version (previously unreleased) Wish You Were Here featuring Stephane Grappelli (previously unreleased)
Disc 3 – DVD1, All Audio:
Wish You Were Here, James Guthrie 2009 5.1 Surround Mix (previously unreleased) in standard resolution audio at 448 kbps
Wish You Were Here, James Guthrie 2009 5.1 Surround Mix (previously unreleased) in high resolution audio at 640 kbps
Wish You Were Here, Original Mix (1975) LPCM stereo
Wish You Were Here, Quad Mix (previously released only on vinyl LP/8 track tape) in standard resolution audio at 448 kbps
Wish You Were Here, Quad Mix (previously released only on vinyl LP/8 track tape) in high resolution audio at 640 kbps
Disc 4 – DVD 2, Audio Visual:
AUDIO VISUAL: Concert Screen Films:
Shine On You Crazy Diamond Intro
Shine On You Crazy Diamond
AUDIO VISUAL: Welcome To The Machine animated clip AUDIO VISUAL: Storm Thorgerson short film
Concert Screen Films play in stereo and 5.1 Surround Sound
AUDIO: Wish You Were Here, James Guthrie 2009 5.1 Surround Mix (previously unreleased) high resolution audio at 96 kHz/24-bit AUDIO: Wish You Were Here, Original stereo mix (1975) mastered in high resolution audio at 96 kHz/24-bit AUDIO VISUAL: Concert Screen films:
Shine On You Crazy Diamond Intro
Shine On You Crazy Diamond
AUDIO VISUAL: Welcome To The Machine animated clip AUDIO VISUAL: Storm Thorgerson short film
40 page 27cm x 27cm booklet designed by Storm Thorgerson
Exclusive photo book edited by Jill Furmanovsky
27cm x 27cm Exclusive Storm Thorgerson Art Print
5 x Collectors' Cards featuring art and comments by Storm Thorgerson
Replica of Wish You Were Here Tour Ticket
Replica of Wish You Were Here Backstage Pass Scarf
3 x Clear marbles
9 x Coasters (unique to this box) featuring early Storm Thorgerson design sketches
12 page credits booklet
Pink Floyd: The Dark Side Of The Moon
The Dark Side Of The Moon digitally remastered by James Guthrie 2011
The Dark Side Of The Moon performed live at Wembley in 1974 (2011 Mix and previously unreleased)
Disc 3 – DVD 1, All Audio:
The Dark Side Of The Moon, James Guthrie 2003 5.1 Surround Mix (previously released only on SACD) in standard resolution audio at 448 kbps
The Dark Side Of The Moon, James Guthrie 2003 5.1 Surround Mix (previously released only on SACD) in high resolution audio at 640 kbps
The Dark Side Of The Moon, LPCM Stereo mix (as disc 1)
The Dark Side Of The Moon, Alan Parsons Quad Mix (previously released only on vinyl LP/8 track tape in 1973) in standard resolution audio at 448 kbps
The Dark Side Of The Moon, Alan Parsons Quad Mix (previously released only on vinyl LP/8 track tape in 1973) in high resolution audio at 640 kbps
Disc 4 – DVD 2, All Audio Visual:
Live In Brighton 1972:
Careful With That Axe, Eugene (previously unreleased on DVD)
Set The Controls For The Heart Of The Sun (previously unreleased on DVD)
The Dark Side Of The Moon, 2003 documentary (25 min EPK)
Concert Screen Films (60 min total):
British Tour 1974
French Tour 1974
North American Tour 1975
Screen films play in stereo and 5.1 Surround Sound
Disc 5 – Blu-ray, Audio+Audio Visual
AUDIO: The Dark Side Of The Moon, James Guthrie 2003 5.1 Surround Mix (previously released only on SACD) in high resolution audio at 96 kHz/24-bit
AUDIO: The Dark Side Of The Moon, Original stereo mix (1973) mastered in high resolution audio at 96 kHz/24-bit
AUDIO VISUAL: Live In Brighton 1972:
Careful With That Axe, Eugene (previously unreleased on DVD/BluRay)
Set The Controls For The Heart Of The Sun (previously unreleased on DVD/BluRay)
AUDIO VISUAL: The Dark Side Of The Moon, 2003 documentary (EPK)
AUDIO VISUAL: Concert Screen Films (5.1 Surround Mix):
British Tour 1974
French Tour 1974
North American Tour 1975
AUDIO VISUAL: Concert Screen Films (High Resolution Stereo Mix):
British Tour 1974
French Tour 1974
North American Tour 1975
The Dark Side Of The Moon 1972 Early Album Mix engineered by Alan Parsons (previously unreleased)
The Hard Way (from 'Household Objects' project)
Us And Them, Richard Wright Demo (previously unreleased)
The Travel Sequence, live from Brighton June 1972 (previously unreleased)
The Mortality Sequence, live from Brighton June 1972 (previously unreleased)
Any Colour You Like, live from Brighton June 1972 (previously unreleased)
The Travel Sequence, studio recording 1972 (previously unreleased) Money, Roger Waters' demo (previously unreleased)
40 page 27cm x 27cm booklet designed by Storm Thorgerson
Exclusive photo book edited by Jill Furmanovsky
27cm x 27cm Exclusive Storm Thorgerson Art Print
5 x Collectors' Cards featuring art and comments by Storm Thorgerson
Replica of The Dark Side Of The Moon Tour Ticket
Replica of The Dark Side Of The Moon Backstage Pass Scarf
3 x Black marbles
9 x Coasters (unique to this box) featuring early Storm Thorgerson design sketches
12 page credits booklet
Odkazy a zdroje: EMI records
Novinky v katalogu Blu-ray filmů