James Bond 50: Detaily výroční Blu-ray edice
Je to jen pár hodin, co se v sítích internetu zachytila první ukázka na nového Jamese Bonda s podtitulem Skyfall a sotva se fanoušci jedné z nejdéle trvajících filmových sérií stačili oklepat z jejího obsahu, už si MGM chystá další překvapení. Odhalilo totiž podrobné informace o chystané James Bond 50 Blu-ray edici.
TIP: Podívejte se na teaser na nejnovější bondovku Skyfall nebo na trailer na James Bond 50 Blu-ray edici!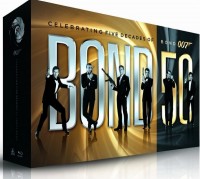 Ta slaví padesát let agenta 007 a na Blu-ray přináší rovnou všechny bondovky, které kdy vznikly (z nichž si mnohé užijí vysokodefiniční premiéru). Zatímco technické informace zůstávají utajeny (ví se, že jsou všechny filmy masterovány v HD, což by nám mělo ke spokojenosti stačit), MGM ve spolupráci s 20th Century Fox odhalilo kopu bonusů, která nás na discích čeká. A máme se na co těšit.
Čtěte také: James Bond poprvé v IMAXu
Svou bonusovou nálož si totiž užije úplně každý díl, což nás ve výsledku dostane k již zmiňovaným 122 hodinám bonusů. Třiadvacátý disk navíc přinese několik nových dokumentů (viz níže) včetně videoblogů z natáčení Skyfall. Ano, vypadá to jako naprostá povinnost. Chvilku si na ní ale ještě počkáme, na pulty obchodů dorazí až 25. září.
Následuje kompletní výpis dokumentárních materiálů (v anglickém jazyce):
Disc 1: Dr. No
Commentary with director Terence Young and cast and crew
Six behind-the-scenes featurettes
Original theatrical trailer, TV and radio spots
Photo galleries
Disc 2: From Russia With Love
Commentary with Terence Young and cast and crew
Two behind-the-scenes featurettes
Animated storyboard sequence
Original theatrical trailer, TV and radio spots
Photo galleries
Disc 3: Goldfinger
Commentary with director Guy Hamilton
Commentary with the cast and crew
Three behind-the-scenes featurettes
Original screen tests with Theodore Bikel and Tito Vandis
Original theatrical trailer, TV and radio spots
Original publicity featurette
Original radio interviews with Sean Connery
Photo galleries
Disc 4: Thunderball
Commentary with Terence Young
Commentary with editor Peter Hunt and screenwriter John Hopkins
Four behind-the-scenes featurettes
Original theatrical trailer, TV and radio spots
Photo galleries
Disc 5: You Only Live Twice
Commentary with director Lewis Gilbert and cast and crew
Four behind-the-scenes featurettes
Animated storyboard sequence
Original theatrical trailer, TV and radio spots
Photo galleries
Disc 6: On Her Majesty's Secret Service
Commentary with director Peter Hunt and cast and crew
Four behind-the-scenes featurettes
Original theatrical trailer, TV and radio spots
Photo galleries
Disc 7: Diamonds Are Forever
Commentary with director Guy Hamilton and cast and crew
Three behind-the-scenes featurettes
Deleted scenes
Original theatrical trailer, TV and radio spots
Disc 8: Live and Let Die
Commentaries with director Guy Hamilton, Roger Moore, and Tom Mankiewicz
Three behind-the-scenes featurettes
Original theatrical trailer, TV and radio spots
Photo galleries
Disc 9: The Man with the Golden Gun
Commentary with Guy Hamilton and the cast and crew
Commentary with Roger Moore
Two behind-the-scenes featurettes
Original theatrical trailer, TV and radio spots
Photo galleries
Disc 10: The Spy Who Loved Me
Commentary with Lewis Gilbert and cast and crew
Commentary with Roger Moore
Three behind-the-scenes featurettes
Original theatrical trailer, TV and radio spots
Disc 11: Moonraker
Commentary with Lewis Gilbert and cast and crew
Commentary with Roger Moore
Four behind-the-scenes featurettes
Original theatrical trailer
Photo gallery
Disc 12: For Your Eyes Only
Commentary with director John Glen and the cast and crew
Commentary with Roger Moore
Commentary with Producer Michael G. Wilson and crew
Four behind-the-scenes featurettes
Animated storyboard sequences for snowmobile chase and underwater
Music video performed by Sheena Easton
Deleted scenes and expanded angles
Original theatrical trailer, TV and radio spots
Photo galleries
Disc 13: Octopussy
Commentary with John Glen
Commentary with Roger Moore
Four behind-the-scenes featurettes
Original screen tests with James Brolin
"All Time High" music video
Original theatrical trailers
Disc 14: A View to a Kill
Commentary with John Glen and the cast and crew
Commentary with Roger Moore
Four behind-the-scenes featurettes
"A View to a Kill" music video performed by Duran Duran
Original theatrical trailers and TV spots
Disc 15: The Living Daylights
Commentary with John Glen and cast and crew
Three behind-the-scenes featurettes
Deleted scenes with introductions from Director John Glen
"The Living Daylights" music video performed by A-Ha
Original theatrical trailers
Disc 16: Licence to Kill
Commentary with John Glen and cast
Commentary with producer Michael G. Wilson and crew
Three behind-the-scenes featurettes
"Licence to Kill" music video performed by Gladys Knight
"If You Asked Me To" music video performed by Patti LaBelle
Opening titles sequence
Original theatrical trailers
Photo galleries
Disc 17: GoldenEye
Commentary with director Martin Campbell and Michael G. Wilson
Eight behind-the-scenes featurettes
Deleted scenes
"GoldenEye" music video performed by Tina Turner
Disc 18: Tomorrow Never Dies
Commentary with director Roger Spottiswoode and Dan Petrie, Jr.
Commentary with Vic Armstrong and Michael G. Wilson
Two behind-the-scenes featurettes
Interview with composer David Arnold
Deleted/Extended scenes with introduction from Roger Spottiswoode
"Tomorrow Never Dies" music video performed by Sheryl Crow
Moby's version of the James Bond theme
Disc 19: The World Is Not Enough
Commentary with director Michael Apted
Commentary with Peter Lamont, David Arnold and Vic Armstrong
Four behind-the-scenes featurettes
Opening titles sequence
"The World Is Not Enough" music video performed by Garbage
Deleted/Extended/Alternate scenes
Original theatrical trailer
Photo galleries
Disc 20: Die Another Day
Commentary with director Lee Tamahori and Michael G. Wilson
Commentary with Pierce Brosnan and Rosamund Pike
Five behind-the-scenes featurettes
MI6 Datastream trivia track with branching video
Opening titles sequence
Photo galleries
Disc 21: Casino Royale
Behind-the-scenes featurettes:
– Becoming Bond
– James Bond: For Real
Chris Cornell "You Know My Name" music video
Disc 22: Quantum of Solace
Two behind-the-scenes featurettes
"Another Way to Die" music video by Jack White and Alicia Keys
Original theatrical trailers
Disc 23: All-new Supplementary Materials
The World of Bond featurettes with optional pop-up trivia option
Being Bond insights from Bond performers Sean Connery, George Lazenby, Roger Moore, * Timothy Dalton, Pierce Brosnan, and Daniel Craig
Skyfall videoblogs that cover the making of the upcoming Bond adventure
Novinky v katalogu Blu-ray filmů